The Parkinson Disney Adventure - Part 3
by Kris Parkinson
On that first day at the park, my husband and I became insanely obsessed with the pins.  We had the freebie one for Cars Land, and that started the craze.  Since my sister was with us, and she'd been to the park more recently than us, she showed us the kiosks where we could buy pins.  My first name starts with a K, and I found a really cute 'K' pin with Mickey/Minnie/Donald/Pluto on it.  My husband decided to find pins with Mickey/Donald/Goofy/Pluto as well as Mickey in Fantasia, as well as any rides he'd been on.  I was just buying willy-nilly with no rhyme or reason.  My youngest son who was about ten at the time, followed along with his dad and chose pins based on his favorite rides.  I did try to find a specific pin based on my favorite all-time ride, "It's A Small World."  I found two, but I missed out on combing the gift shop outside that ride because it was near closing time. 
I bought a starter pack set for Fantasyland that had different pins as well as a lanyard.  I didn't need another lanyard – or did I?  As many pins as I've collected since then, I think that extra lanyard was a godsend!
Below are a couple pictures showing some of my pins.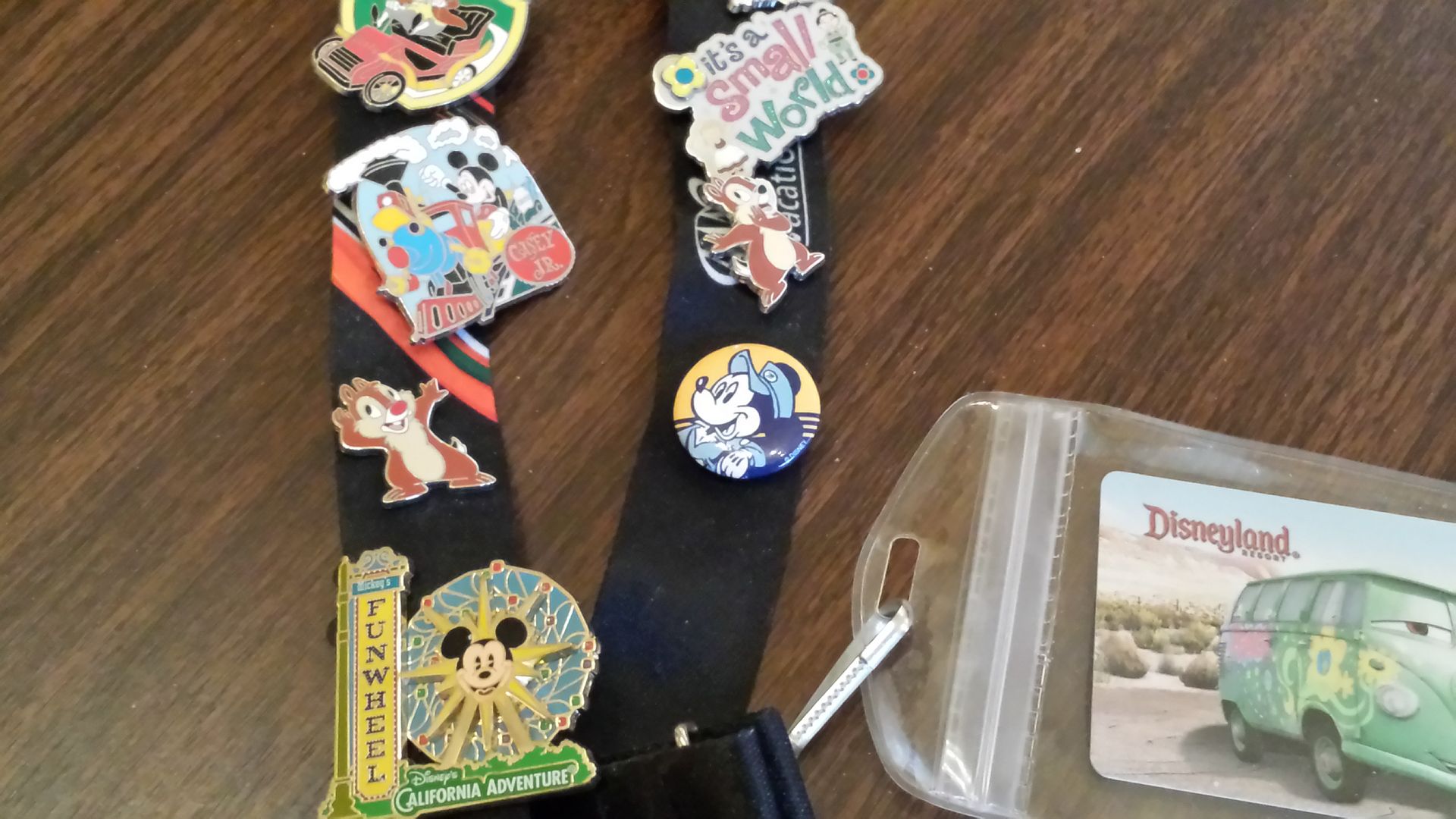 One ride experience that I must share had to do with the Indiana Jones Adventure ride.  The line was long, but we had the Fast Pass so that we could move forward quickly.  My parents avoided the ride, but my sister, my husband, my kids and I went for it.  Sadly, when it was our turn to get into a vehicle, my youngest son decided that was the time when he needed to go to the bathroom.  Ugh!  A cast member told us how to get outside and out to the restrooms.  We were able to get a free pass to get back in to the ride when he was done. 
When we got back into the ride and were able to get a vehicle, my youngest son's seatbelt wasn't latching.  My sister and I flailed our hands in the air and hollered for a cast member to help.  They had everyone get out of the vehicle and found another one for us to ride in.  Now, apparently I hadn't paid attention to the little movie that was playing while we were standing in line, because I didn't know there was a mesh bag in the vehicle to hold my belongings.  Right when the ride started, I realized my purse was in my lap.  Fortunately it had a shoulder strap, so I tried very quickly to pull it over my head.  In doing so, I almost knocked my glasses off my face!  They were askew!  I pushed them back on, and then our vehicle flew around a corner and I could see my purse out of the corner of my eye – it was way out on my right, flying around, but at least it was attached to me!  That ride was fast and crazy and I would do it again – with my purse in the mesh bag!!
Further adventures to come, so stay tuned!